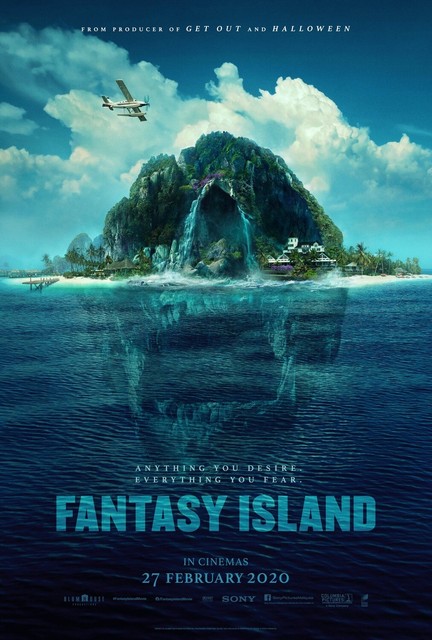 Directed by: Jeff Wadlow
Written by: Christopher Roach & Jillian Jacobs
Starring: Lucy Hale, Maggie Q, Portia Doubleday, Jimmy O. Yang, Ryan Hansen & Michael Peña
Release date: February 14, 2020
Rating: PG-13 (for violence, terror, drug content, suggestive material and brief strong language)
Runtime: 1 hr. 50 mins.
Genre: Horror, Thriller, Mystery/Suspense
Studio: Columbia Pictures
---
Synopsis: The enigmatic Mr. Roarke (Michael Peña) makes the secret dreams of his lucky guests come true at a luxurious but remote tropical resort, but when the fantasies turn into nightmares, the guests have to solve the island's mystery in order to escape with their lives.
---
You can tell Jason Blum and the rest of the folks at Blumhouse Productions have lost faith in one of their films when they tack the possessive "Blumhouse's" onto the title. It's an easy tip off that they've resorted to little more than a cross of the fingers, hoping that the Blumhouse brand name alone is enough to sell tickets. Prior to Blumhouse's Fantasy Island, the last project to receive this prodigious treatment was Blumhouse's Truth or Dare (2018), an embarrassingly lethargic horror take on the popular party game. It's probably no surprise then that the same creative team is behind both projects, including director Jeff Wadlow and his writers, Jillian Jacobs and Christopher Roach. Lucy Hale even stars in both.
In the golden age of reviving dead IP, the creative appeal of something like Fantasy Island is understandable. There's an innate flexibility built into the idea of different characters getting to live out their deepest desires. And to its credit, Blumhouse's Fantasy Island is at its most enjoyable and most intriguing when leaning into that flexibility. The script covers different genres as it bounces between characters. We get a taste of some melodrama, comedy, thriller and (it is still Blumhouse) slasher. The variety of stories kept me on my toes, so to speak, during the first half of the film.
It's when all those seemingly disparate stories start to come together down the back half of the film where things get messy. The more fascinating elements that make Fantasy Island what it is quickly give way to an overarching narrative that is more convoluted, formulaic, and exhaustively dull.
Michael Peña is as magnetic as every. He brings a sense of enigmatic cordiality to the role of Mr. Roarke, the overseer of Fantasy Island. Should this film give way to something resembling a franchise, I would definitely be open to spending more time with this version of the character.
---
Those are my thoughts on Blumhouse's Fantasy Island. What do you make of them? Have you had a chance yet to check out the film? If so, what did you think of it? Sound off in the comments below and let me know!