Directed by: Marielle Heller
Written by: Noah Harpster & Micah Fitzerman-Blue
Starring: Tom Hanks, Matthew Rhys, Susan Kelechi Watson, & Chris Cooper
Rating: PG (for some strong thematic material, a brief fight, and some mild language)
Runtime: 108 minutes
Studio: TriStar Pictures
Release date: November 22, 2019 (Wide)
Genre: Drama
---
If you've caught any of the marketing for A Beautiful Day in the Neighborhood, then you might be under the impression that it's a fact-based biopic about Fred Rogers, the beloved host of the revolutionary PBS television show Mr. Rogers' Neighborhood. You should know well in advance that this isn't the case. What is true, however, is that Mr. Rogers is heavily featured throughout this film, it's just not his story being told here. That privilege goes to an investigative journalist named Tom Junod, who wrote the 1998 Esquire profile of Fred Rogers Can You Say… Hero?, on which this film is based.
It's also true no performer in the world is a cozier fit for the iconic red cardigan than Tom Hanks. That might sound like cheating at first; after all, he is one of our greatest living actors and therefore would be the perfect candidate for nearly any role. Still, it's more than Hanks' captivating on screen presence that uniquely qualifies him for the honor of portraying Mr. Rogers. If you've ever watched Hanks in an interview, seen him in any behind-the-scene footage, been lucky enough to run into him out in the wild, or simply follow him on social media, then you're aware of what a genuine human being he is. Tom Hanks treats each individual with the same brand of warmth and sincerity that Rogers spent his decades on television educating children on.
It's not too surprising then that Hanks' personal philosophy towards humanity should inform his performance as Mr. Rogers. Admittedly, it took me a few minutes in the beginning to get beyond the obvious fact that I was looking at Tom Hanks and not in fact Fred Rogers. Despite some sharply detailed makeup and costuming, the two share very few physical attributes. Fortunately, uncanny resemblance to source material rarely, if ever, makes or breaks a movie. Hanks and indeed the film on a whole embody the saintly spirit that made Mr. Rogers a true American hero.
Meanwhile, the spirit of Tom Junod is present through Lloyd Vogel (Matthew Rhys), a jaded magazine writer who's tasked with profiling the Pittsburgh celebrity to the tune of 400 words. Why Fred Rogers? Well, at the time Esquire was running a series dedicated to American heroes and Rogers was the only name on their list willing to sit down with Lloyd. It turns out the writer has a bad rep for writing unfavorable "hit pieces" on the subjects he interviews. He's suspicious of them and committed to uncovering and exposing their ugly "truth's." Thus begins this heartwarming account of a time not too long ago when the unstoppable force of love clashed with someone who fancied their cynical perspective an immovable object.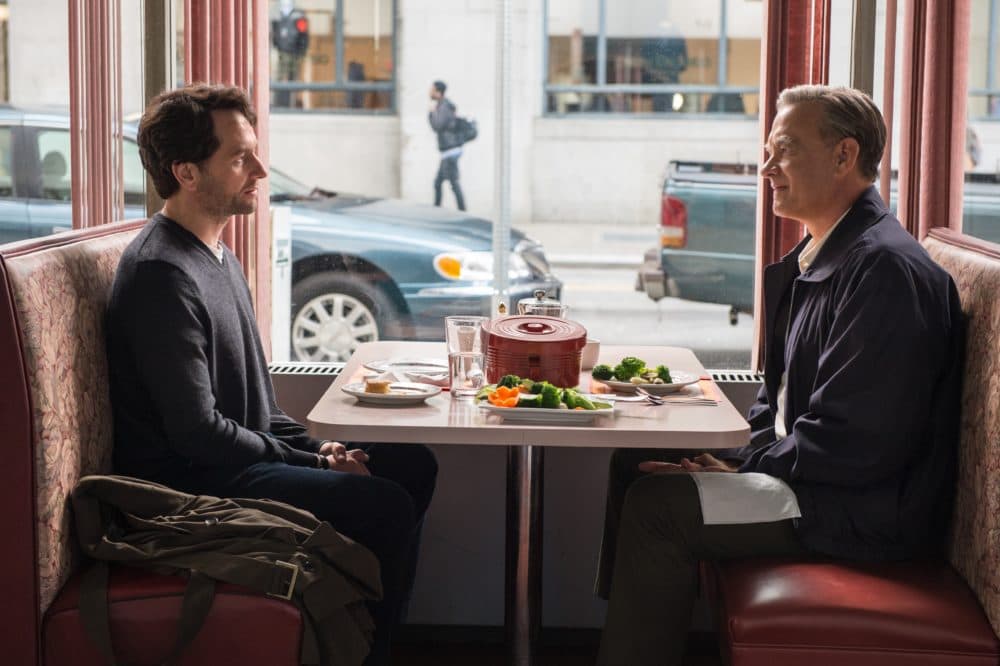 Rhys is understated and earnest as Lloyd, a man harboring many complex feelings about the world because of past trauma, although it becomes clear that deep down he's desperately yearning to live a life of peace with his wife and newborn son. It'll likely be a thankless performance, but it's one which makes it easy to understand why those who dislike Lloyd do while at the same time making it plain to see why his wife Andrea (Susan Kelechi Watson) loves him and why someone like Fred Rogers is drawn to him. It's the exact central performance and foil to Hanks that A Beautiful Day needs in order to be successful.
As Lloyd gradually opens up to Mr. Rogers about his life and certain feelings he's been holding onto, I too began feeling swept up in my own therapeutic journey. It was as if the movie was wrapping me in its warm, cinematic embrace, letting me know that I am loved precisely the way that I am. One beautifully orchestrated scene in particular highlights this touching message.
Lloyd and Fred are sitting in a restaurant when Fred asks his new friend to silently reflect for one minute on all the different individuals whose love eventually shaped him into the person he had become. Just then, the diner falls still. Everyone from the the waiting staff to the rest of the guests pauses to oblige Mr. Rogers' request. The film spends the next sixty second of real-time cutting from one face to the next. Their expressions slowly start to reflect the evolution of their feelings. Just then, Hanks as Rogers turns directly towards the camera and for a fleeting moment offers us a confident and loving smile. That's when it happened. That's when I, a grown man alone in a darkened movie theater, began weeping with un-repressed joy.
Walking away from A Beautiful Day in the Neighborhood, I felt a rush of genuine hope for myself and my fellow man. It's the kind of transformative experience one hopes to get walking out of the theater.
---
Have you had a chance to check out A Beautiful Day in the Neighborhood? If so, what are your thoughts? Is it even something you're interested in seeing? Slide into the comments section below and let me know! I want to hear from you!