Disney's "live-action" (it's not live-action) update of The Lion King roars into theaters this weekend. The groundbreaking visual effects featured in the film were only utilized once before. I'm talking of course about the highly polished remake of The Jungle Book. Not so coincidentally, both films were directed by Iron Man's own Jon Favreau (I'm picking up on a very strong Disney theme). I figured this all made for the perfect excuse to take a quick look back at the career of Favreau the filmmaker and to put an official ranking to it, from his mist unfortunate miss to his greatest achievement. What do you think, do you agree? Great, let's get started!
8.) Cowboys & Aliens
Part Indiana Jones, part Iron Man, all awful. Cowboys & Aliens was pitched as the next great action flick from the director of Iron Man. As it turns out, that's a pretty high bar to hit because what we got is an uncharacteristically thoughtless film from Favreau. It's as if between Iron Man 2 (which we'll get to) and this he forgot how to tell a complete and compelling story. Now what exactly caused this huge disappointment isn't likely to come clear anytime soon as Favreau isn't the type to badmouth his peers behind their backs (at least public ally). Still, let's not forget that even Steven Spielberg has a bad day at the office every now and again.
---
7.) Iron Man 2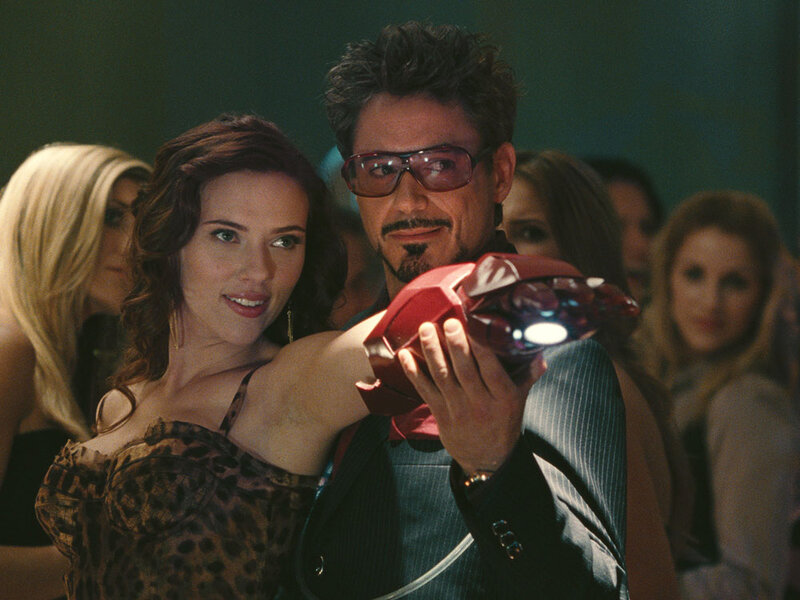 I told you we'd get to it. To this day, Iron Man 2 is still looked down upon by many fans as one of the lesser Marvel movies. It's tough to argue the point. It mostly meanders between cartoonish characters, setting up for future MCU films. It looks even sloppier in comparison to Favreau's first film, which came out of nowhere to thrill audiences everywhere. That said, I don't dislike this film by any means. Despite its issues, Iron Man 2 still boasts enough of Marvel Studios' now-signature heart, humor and action.
---
6.) The Lion King (2019)
You've never seen anything like Jon Favreau's re-imagining of The Lion King. It's a jaw-dropping feat of visual wizardry. It also skates by by virtue of it being almost exactly the same film as the 1994 film. What's missing is what's inherently fantastical and theatrical to this specific story. Because it's meant to be a literal translation of the anthropomorphized events of the original, this update is limited to the real-world behaviors of its wildlife. This means no crying, no smiling, and no noogies. Also prohibited is the whimsical flamboyancy that helps make the original musical numbers so memorable. What we're left with is the shiny shell of a beloved classic.
---
5.) Zathura: A Space Adventure
Zathura is the Jumanji of the 21st century, centered around a group of kids who repeatedly alter reality with each player's turn of a board game. If you were wondering, both movies are in fact based on books by the same author, Chris Van Allsburg. What's different this time out, however, is that instead of the jungle, our protagonists are flung into deep recesses of space, thus Zathura: A Space Adventure. Though it doesn't feature a memorable turn from a performer as charismatic as Robin Williams, the final product is still surprisingly charming and stars a pair of endearing young leads.
---
4.) The Jungle Book
With The Jungle Book, Favreau accomplished the rare feat of crafting a reimagining that's more realized and wholly satisfying than the original. While the 1967 animated Jungle Book is cherished dearly by plenty of movie lovers, it was never a film I adored. That changed with Favreau's take. In addition to gorgeous, never-before-seen visual effects, the characters were more fleshed out and ultimately more lovable. Plus Idris Elba as Shere Khan is nothing short of sheer terror.
---
3.) Chef
In 2014 Favreau took a break from his many years of serving up big budget blockbusters to indulge more intimate, culinary endeavors. Chef, which Favreau also wrote and starred in, combines the filmmaker's love of film with his love of cooking and the result is some of the most mouth-watering food you'll ever see in a movie. Bring snacks, or at least make plans to eat afterwards. You'll thank me later. More than that though, Chef is a delightful and inspiring tale that goes down easy.
---
2.) Elf
Christmas-themed movies hit theaters ever year; however, it takes something truly special to be remembered as a true holiday classic. Elf achieved such status thanks in large part to an undeniably endearing performance from Will Ferrell as a naive elf searching for his biological father in New York City. It's a heartwarming and hilarious fish out of water story that is sure to melt even the coldest of souls.
---
1.) Iron Man
The first Iron Man is the perfect summer crowd pleaser, yes. It's funny and action-packed; more importantly, it's anchored by a performance from Robert Downey Jr. that's equal parts charismatic and vulnerable. The summation of it all was so strong that it became the foundation for an unprecedented decade-plus run of massively successful serialized cinema.
---
There you have it, my ranking of the filmography of Jon Favreau! What do you make of my ranking? Do you agree? How would you rank his films? Jump down to the comments below and let me know what you think!