We are halfway through 2019 already, which obviously means that half of the year's cinematic offerings are in the rear view. As I do at certain point every year, I like to reflect back on my time at the theater and update my obligatory "the best movies of the year so far" list. It's important to note that I have not seen everything that's come out so far. I've even regretfully missed some of the higher-profile films like Booksmart (which I will get around to checking out before the next time I update this list). Still, I cannot delay this article any further. I must take what I have at the moment and present it to you as I've experienced the year-in-film so far. So please and without further ado, here are my picks for the ten best films of 2019 so far!
10.) The Beach Bum
Believe it or not The Beach Bum is the second tropical tale to star Academy Award-winner Matthew McConaughey this year. Here, McConaughey plays Moondog, a beer-guzzling, pot-smoking free spirit lounging his life away in the Florida sands. He's also a world-renown poet who's put in the peculiar situation of having to finish his next book before he can officially inherit his late wife's (Isla Fisher) fortune. It's a wacky premise for a wacky film that's main purpose is to pair a blazed McConaughey up with a handful of recognizable talents such as Snoop Dogg, Zac Efron and Martin Lawrence for some absurd on-screen shenanigans. There's enough philosophical contemplation in the titular bum's writing for anyone looking for a deeper connection to the film; however, if you're just looking for a few laid back laughs, there are plenty of those too.
For more on The Beach Bum, check out my official review!
---
9.) Long Shot
Though they've been killing it on streaming services like Netflix, romantic comedies have been struggling in theaters as of late. Long Shot is just another unfortunate victim of this sad trend, which sucks because it's one of the funniest and most charming movies of 2019. The title refer's to the film's well-traveled story about two unlikely individuals who soon discover they're actually soulmates. In this case, outspoken journalist Fred Flarsky (Seth Rogen) is hired by presidential hopeful Charlotte Field (Charlize Theron) to help punch up her speeches along the campaign trail. Director Jonathan Levine (Warm Bodies, 50/50) isn't shy about his political loyalties; however, his film is much more interested in exploring dignity and how far someone in the current U.S. political climate is willing to compromise their values for the sake of either obtaining or maintaining power. Rogen and Theron are a lot of fun together and I don't want to undersell the contributions of O'Shea Jackson Jr. as Lance, Fred's devoted best friend.
To check out my thoughts on Long Shot in more detail, see my full review here!
---
8.) Us
Jordan Peele's Get Out is one of the most unique and creative horror films of the past decade. It was also one of the most successful. Needless to say, the bar had been set high for the Key & Peele star's sophomore film Us. If you've read my review of Us, then you know that I was mostly thrilled with the film. Lupita Nyong'o gives one of the finest performances of the year as a mother trying to keep her two children safe from violent doppelgangers, who've surfaced to torment them. Though it's much more of your typical thriller than Peele's first film, Us showcases the comedian's knack for timing, which he utilizes to great effect once again for both fright and fun.
Read my Us review in its entirety here!
---
7.) Velvet Buzzsaw
I haven't been the biggest fan of Netflix's original films. That said, I absolutely adore Dan Gilroy's noir thriller Nightcrawler starring Jake Gyllenhaal. Naturally, when I learned that the two were pairing up again, this time to tell the story about a mysterious artist whose work is reaping vengeance from beyond the grave exclusively via the streaming service, I immediately had to sit down and watch it and wow am I glad I did. Unlike Nightcrawler, which is a character study and vehicle for Gyllenhaal,Velvet Buzzsaw is an assemble piece with equally committed turns from the likes of Rene Russo, Toni Collette, Daveed Diggs, John Malkovich and more. The end result is a darkly amusing skewering of the posh world of "high art" with some truly disturbing fates for many of its characters.
---
6.) Late Night
The Devil Wear's Prada meets The Big Sick is sort of how I've been describing the joyous Late Night. It's a romantic comedy written by and starring a successful comedian (in this case Mindy Kaling) as someone who aspires to make it as a successful comedian in the entertainment industry while suffering as an underling to one of the most beloved and oppressive entertainers in the biz (Emma Thompson), who also happens to be British. Also like those films, Late Night is unexpectedly charming and grounded in genuine emotion and relatable dilemmas. In her first feature directorial gig, Nisha Ganatra coaxes some moving performances out of her cast. Thompson in particular demonstrates yet again why she is simply one of the most formidable and simultaneously likable actors working today.
Interested in more of my Late Night thoughts? Click here!
---
5.) Shazam!
Shazam! is some of the most fun I've had at the movies all year and that's what you want out of a film about a young kid, this one named Billy Batson (Asher Angel), who is magically endowed with the power and physique of a Greek god (Zachary Levi), which he can access anytime simply by uttering the word "Shazam!" Admittedly, the first twenty minutes had me worried after a slow start. The film eventually takes off once Billy meets his new foster brother Freddy (Jack Dylan Grazer), a comic book aficionado who schools grown-up Billy (as portrayed by a wide-eyed Zachary Levi) in becoming a true superhero. Director David F. Sandberg and his team of writers likely could have scraped by on the infectious chemistry of their three leads and superhero in-jokes, but they don't. They unexpectedly imbue their film with loads of heart while using their young protagonists to address some hard-hitting real-world issues like abandonment and the desensitization that can arise from failed foster care. Shazam! is a well-rounded winner for DC films.
For more on my thoughts about Shazam! you can see my review here.
---
4.) John Wick: Chapter 3– Parabellum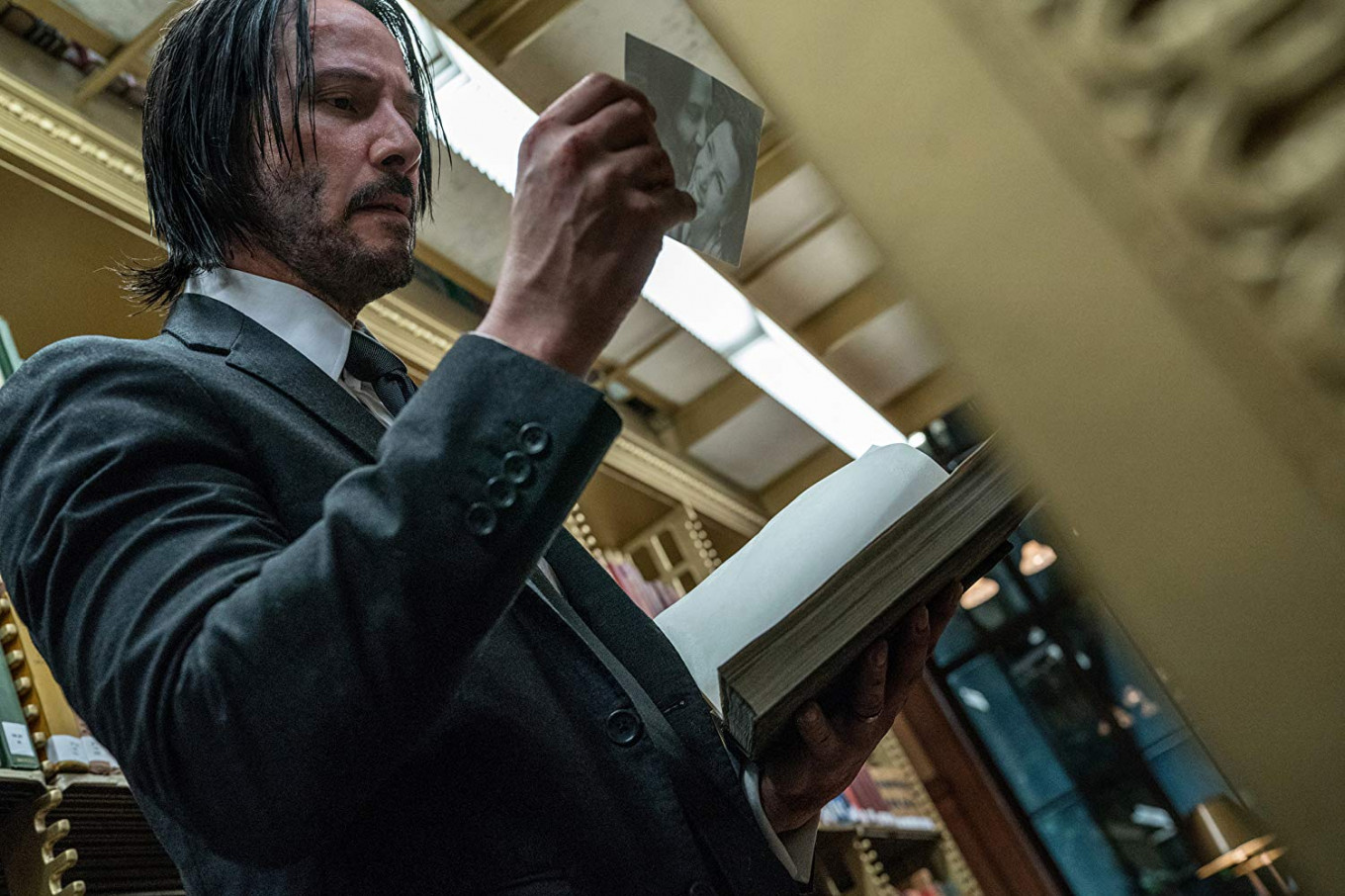 I keep saying it, but the original John Wick was one of the most pleasant surprise films I've ever seen and to this day ranks among some of my all-time favorite films. John Wick: Chapter 2 I thought was a brilliant extension of the series' fascinating mythology that somehow managed to up the ante on its predecessor's outrageous action and fight choreography. John Wick: Chapter 3— Parabellum picks up exactly where its predecessor left off, with John Wick (Keanu Reeves) in a race against time and only one hour until every assassin in the world tries cashing in on the $14 million bounty on his head. This may just be the most insane Wick yet, boasting a number of series-highlighting action sequences guaranteed to wrinkle your nose and coax noises out of you that are typically reserved for horror movies.
Check out my complete thoughts on John Wick: Chapter 3— Parabellum here!)
---
3.) Avengers: Endgame
It's been said many times, many ways, but Marvel Studios has truly accomplished an unprecedented feat. Thanks to the forward-thinking leadership of Kevin Feige, they have given us a sprawling cinematic continuity stretching across 22 superhero films in 11 years (now 23!). What's more is their impressive consistency of high-quality from one film to the next. Avengers: Endgame was tasked with satisfyingly wrapping up all those years of filmgoing and by and large, directors Joe and Anthony Russo did just that. This three-hour epic somehow manages to cram in dozens of beloved characters from all matter of genres and give them their time to shine on its way to a conclusion that's simultaneously a heart-warmer and a tear-jerker. It may have come up short as the highest-grossing film ever made, but make no mistake about it there will never be another film like Avengers: Endgame.
Click here to check out my review of Spider-Man: Far From Home!
---
2.) Toy Story 4
Toy Story fans, including myself, were hugely skeptical about the prospect of a fourth entry in the franchise. "The trilogy wrapped up so perfectly in 2010, can't we just leave it there?" was the sentiment shared by many pessimists on the internet. I'm so happy to share with you that while it certainly could have ended at Toy Story 3, boy am I sure glad it didn't because what we got with Toy Story 4 is something truly special. That's right, even Forky (Tony Hale) eventually earns his place among Andy's original playthings. This time out, Woody (Tom Hanks) struggles to reinvent himself in the face of a growing Bonnie, who's identifying more with Jessie rather than him as she gets older. The loyal sheriff takes it upon himself to look after Bonnie's new Forky, which leads the gang on another wild adventure. Bo Peep (Annie Potts) pops back into the toys' lives as the they face off against Gabby Gabby (Christina Hendricks), the richest and most complex antagonist in the entire series to date. It all builds towards a bittersweet moment at the end that delivers all the feels the way only Pixar knows how.
To read all of my Toy Story 4 thoughts, read my review here.
---
1.) How to Train Your Dragon: The Hidden World
To be honest, I struggled with whether or not to put Toy Story 4 in the top spot (and perhaps even I will, depending on the day). Regardless of which film nabbed number one or number two, both of these movies are genuinely moving finales to two of the best respected and most satisfying animated series ever. How to Train Your Dragon: The Hidden World emotionally concludes DreamWorks' epic coming-of-age saga featuring a boy and his dragon. However, now the boy in question, Hiccup (Jay Baruchel), is a man and leading his fellow vikings on their quest to find a new homeland with Toothless, his loyal friend and mythic creature. Like the previous films, Hidden World addresses some mature life lessons and isn't afraid to make sure its heroes lose something along the way. That includes their identity as the pair meet a new threat that forces them to question everything they thought they knew about each other and themselves. The beauty of the film's subtext is matched by its stunning aesthetics; not just in its animation, but also its cinematography (which makes more sense once you realize that the filmmakers consulted Oscar-winning director of photography Roger Deakins). John Powell's score is once again soars at just the right moments to make every heartfelt moment just that more touching. Make sure you bring tissues.
---
Those are my picks for the ten best films of the year so far! Keep in mind that though I have seen a lot of movies this year, I still have to catch up on a lot. Still, which of my picks do you agree with and which films would you include on your's? Sound off in the comments below and let me know!